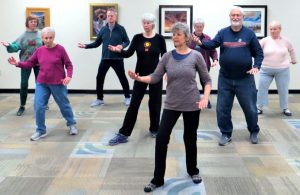 Oasis Albuquerque is the recipient of a $60,000 Healthy Kids, Healthy Families® grant from Blue Cross and Blue Shield of New Mexico (BCBSNM) to support health and wellness programming offered by Oasis Albuquerque. This programming will reach more than 3,000 people and include approximately 100 engaging health lectures, cooking demonstrations, and physical activity classes by experts in their field, in addition to evidence-based health workshops. We are particularly excited about the workshops: 'A Matter of Balance' focuses on fall risk reduction; 'Peers for Productive Aging' focuses on reducing social isolation in older adults and connecting them with local resources; and 'Chronic Disease Self-Management' focuses on improving self-management of chronic conditions. Oasis Executive Director Kathleen Raskob commented, "We will be able to offer these enriching opportunities not only at Oasis, but also in new locations throughout our community. We are extremely grateful to Blue Cross and Blue Shield of New Mexico for their support of our work."
Please join us for one or more of these wonderful, effective classes, offered at low or no cost thanks to support from BCBSNM!
Photo: Ilene Dunn leads participants in the evidence-based practice of Tai Ji Quan: Moving for Better Balance.