Albuquerque Oasis Location and Contact Information
Mailing Address
PO Box 35518
Albuquerque, NM 87176
Please note, we are unable to receive mail at the physical location.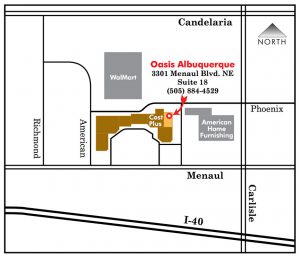 Physical Location
We are located in American Square Shopping Center 
Albuquerque Oasis
3301 Menaul Blvd NE, Suite 18
Albuquerque, NM 87107
Tel: (505) 884-4529
Fax: (505) 884-4942
Map or click the map to enlarge.
We are just west of Carlisle NE in the building facing the American Home Furniture store.
Hours
Monday – Thursday
9:00 a.m – 4:30 p.m.
Friday
9:00 a.m. – 4:00 p.m.
Albuquerque Oasis Staff