From the Director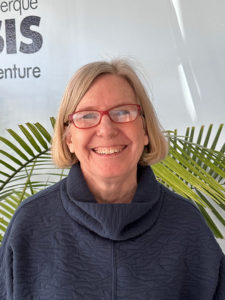 Fall 2023
Dear Oasis Friends,
Happy fall! As I write this, we are in the midst of 100+ degree temperatures. I like the heat (it's dry, you know!), but fall is my favorite season of all, and I look forward to cool, crisp weather and a new assortment of Oasis classes.
Oasis is fortunate to have a committed and passionate staff. Lisa Lerner has been on board for almost nine years, Vicki DeVigne for 8+ years, Cynthia LaCoe-Maniaci for six years, Becky Kenny (who is now working remotely from the Austin, TX area) for 4.5 years, and Sylvia Giomi for four years. I've had the good fortune to be the Oasis Executive Director for 9.5 years. We have a lot of fun and good laughs daily! We love seeing all of you – you make our day and are the reason we come to work every day!
A warm welcome goes out to our new office manager, Adam Fischler. He is located in the office, right behind the front desk. Please introduce yourself the next time you're in for a class.
Mark your calendar for our Rediscover Oasis, taking place on Thursday, September 14, from 10:00 a.m. to noon, right here at the Oasis Center. We've had different names for this open house over the years (Celebrate Oasis and Taste of Oasis). We have all sorts of fun and unique activities planned, and we hope you bring your friends and introduce them to Oasis – an amazing local treasure!
See you this fall!
Sincerely,
Kathleen Raskob, Executive Director
Registration tips:
Log on to our website (www.oasisabq.org) and sign in to your account to make sure you are active and current prior to the opening day of registration on September 6. If you encounter ANY problem, please call the office. It's not you, but it may very well be a glitch in our system that we can fix quickly for you.
If you register using a paper form, please mail or drop it off as soon as you receive the catalog. Paper forms are processed in the order they are received; sooner is better!
Always check your receipt for class details – receipts include Zoom links or directions to off-site locations.
Always add your name to the wait list…and keep the date free…we often call 10-15 people just to find someone who is still available after a last-minute cancellation.
You can register for classes throughout the session!
The Oasis office is closed on the following holidays:
Presidents' Day
Memorial Day
Independence Day
Labor Day
Thanksgiving & Day After Thanksgiving
Christmas Eve & Christmas Day
New Year's Day
Meet our Board of Directors
Lorna M. Wiggins, Chair
Wiggins, Williams & Wiggins, Albuquerque
Bret Heinrich, VP
Salvation Army, Midland Division
Anne Sapon, Secretary
Anne Sapon Consulting, LLC
Dawn Anderson, Treasurer
National Oasis Institute
Chrissy Akes
MorningStar Assisted Living & Memory Care of Albuquerque
William Itoh
McLarty Associates