From the Director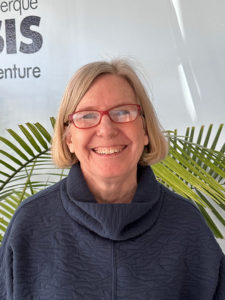 Spring 2023
Dear Oasis Friends,
It's a new year, and here at Oasis, we're looking forward to it! We have seen many of you return to Oasis, and we encourage you to spread the word about Oasis – our classes, our Intergenerational Tutoring Program, and our health & wellness programming.
Sign up and read our weekly emails. You'll receive notice of upcoming pop-up classes – educational offerings that didn't make it into the catalog, including popular offerings that fill up quickly (like hikes, walks, and tours, for example). Weekly emails also include classes that you may have missed in the initial round of registration. You can sign up at any time – not just on registration day!
Registration tips:
Log on to our website (www.oasisabq.org) and sign in to your account to make sure you are active and current prior to opening day of registration on January 4th. If you encounter ANY problem, please call the office. It's not you but it may very well be a glitch in our system that we can fix quickly for you.
If you register using a paper form, please mail or drop it off as soon as you receive the catalog. Paper forms are processed in the order they are received and sooner is better!
Always check your receipt for class details – receipts include zoom links or directions to off-site locations.
Always add your name to the wait list…and keep the date free…we often call 10-15 people just to find someone who is still available after a last minute cancellation.
You can register for classes throughout the session!
Looking forward to 2023 – it's your time to get fit, get smart, and get back to being social. See you soon at Oasis!
Kathleen Raskob, Executive Director
The Oasis office is closed on the following holidays:
Presidents' Day
Memorial Day
Independence Day
Labor Day
Thanksgiving & Day After Thanksgiving
Christmas Eve & Christmas Day
New Year's Day
Meet our Board of Directors
Lorna M. Wiggins, Chair
Wiggins, Williams & Wiggins, Albuquerque
Bret Heinrich, VP
Wings of Hope
Anne Sapon, Secretary
True Health NM
Dawn Anderson, Treasurer
National Oasis Institute
Chrissy Akes
The Neighborhood in Rio Rancho
Wei-Ann Bay, MD
Blue Cross and Blue Shield of NM